Avatars 2001 Logo Page
Logos by Troy Gerth
Click on logos to get full rez versions
NOTE: most versions presented here are suffixed with a "w".
They have been optimised for download using a 15% factor (normal for JPG).
The file length is given in Kilobytes after the name of the file.
In brackets the original file length is given.
Preferred logo: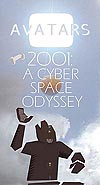 moonwatcher3.jpg 10K