Download Active Worlds from this site at ActiveWorlds.com, install it and enter as a tourist. Then select the world AV99 out of the list of worlds on the left hand side of the interface. If the AV99 world is open (email us if it is not) you will be transported to the Ground Zero of the conference world. Signs and helpers will direct you from there. You can also get into the AV98 world directly from this web page by clicking on this web teleport link, and scrolling to the \Active Worlds directory and choosing the AWORLD.EXE application as your helper for this type of link.
Happenings in Avatars99 for Active Worlds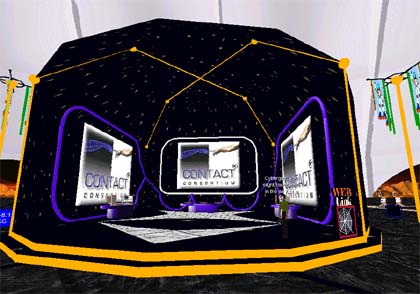 Booth at the all new exhibit hall
| | |
| --- | --- |
| A preview of the Webcams World | A look at the sporty new T-shirt on an AV99 avatar |
In the Active Worlds universe, the 13 worlds "AV99xxx" will contain a busy Speaker Sessions Area, Exhibit Hall, Galleries, Avatar Awards, and Webcam Wall.
For more information on the Active Worlds community see our pages on Active Worlds at the Avatar Teleport.