TheU

Competition
Design Brief
The Judges

Digi's Album:
Background
History
Judging
Aurac - The Winner!
Cubed - Runner-up
Kool3
AlphaU
Athought
Final Judgement!

Team Thoughts:

History

The Future

Mailing List

Links

Contact Consortium Home page
You may click on some images to see larger views
The competition judges begin to assemble
Receiving Marcos Novak's ballot by email
The Judging Phase

The final phase of the judging commenced after two full hours of collaborative touring, narration and a lot of wandering around in the six finalist worlds. Active Worlds supports two types of communication, one is text chat, which appears over the avatar's head and in a common streaming chat window, and the other is a system of private person to person telegrams. Word went out, by telegram to all judges to report to the crystal pyramid in TheU world. Other participants were informed through word of mouth through the public chat. By this time there were some 40 participants scattered throughout the six worlds. Indigo33 and "AuntieGalen" were on watch at TheU ground zero to redirect participants or any judges who happened to crash and have to re-enter. I was in constant telegram contact with Indigo33 (she would answer and query within five seconds) so I could keep a handle on what was happening in TheU itself.
In the lineup of judges,
feeling the nervous tension
Pass the envelope please..
Stuart posts the winner!
Opening the Envelopes!

Tension was palpable as everyone crowded into the pyramid and the judges were asked to form a line. Stuart (as San Marco) lead the proceedings. All judges sent private telegrams to Stuart, with the exception of Marcos Novak, who was in-world as a tourist (having no telegram privileges). Marcos had to go to another computer at UCLA, send me (Bruce Damer) an email with his selection of the top contender, and then I had to forward it to Stuart by telegram (see the image above of me checking my email for Marcos' ballot). Simply passing the information along in the general text chat area would not have been true to the decorum of secret ballot or fair to the contestants.

Standing there, I felt all the same feelings as if I had been a judge in a competition in real life (IRL). But then again, how different was this event from an IRL? Certainly there was good old fashioned roll up your sleeves work done on the 33 worlds. A lot of personal relationships were built (and some destroyed perhaps) by the strain of the work. And surely there were moments of joy as structures rose in the virtual firmament. Memories poured back about another event which felt as real as IRL, two years ago at the Wedding of Tomas and Janka where I was also the event documentor. It sure felt as real as any family wedding of my past, only experienced through the keyhole of this fragile new medium, a medium of the visual cortex, and of text streams. It has to be noted that 100% of the interaction with the other judges, contestants and others were through the medium of the world, no telephone calls, no teams of students in a lab. The energies, hopes, social cues, confusions, pride, shuffling and exploring were all done inside this novel form of Cyberspace.

Well, Stuart had all of our ballots and he quickly innovated a way to announce it to the group. He had us all come over to the other side of the pyramid and then slid a sign into view, suspended in the air below the vertex. He then changed the lettering to read The winner of theU competion is AURAC. In Active Worlds, people can move and replicate and transform objects in the same space, and these changes can be seen by everyone within seconds. This has permitted the Amish style barn raising or town construction, as we helped pioneer in the Sherwood Forest Towne community experiment.

Stuart posts the runners-up and
honorable mentions
Stuart shifts the signs into a stack
for better viewing
The Winners Announced!

Right after the winner sign appeared, there was a wave of elation moving through the entire group. The builders of Aurac, Zg, Aurac and HenrikG, were falling over. The flow of text piced up, full of emoticons, *clapping* and other emoties. Everyone was thrilled to be at an event which went far beyond the normal unstructured, unfulfilling experience of text chat with random strangers. This event, like the Wedding and the Sherwood community build days had a set of goals, a way to measure success, structured time check points, and a conclusion.
Two documentary photographers
about to take our pictures
Cheese!
The judges pose for a historic image
Recording the Historic Event

Everyone was keen to capture this moment in history and there were plenty of people with cameras. By pressing the Print Screen button on any PC's keyboard and then pasting the resulting image into a competent image editor, one could capture any view. A full hour of text is kept logged to allow capturing of a complete transcript, in chunks, of any event. Rumor has it that the makers of the world also achieved the ability to make a holographic record, that is, to store every movement, conversation, and change to the landscape for later replaying. The Wedding had been captured in toto in this manner. This will be a great tool for researchers in virtual worlds community in the future, or for those placing advertising in high traffic areas!
More participants crowd into the
picture and start chattering
On my knees
to get that dramatic shot!
Reflections

Eep announced that he would be holding a continuing party at some coordinates in AlphaWorld, the original and largest virtual world in the complex. Everyone who has been around for a while in this universe has some kind of ancestral home in AlphaWorld. I often wonder if I will every find that original little streetfront plot of land where I was taught how to build late one night by a very patient Finnish student. I went on to seek a good chunk of real estate for the bigger Sherwood project but will always keep a fondness for those first few slabs that I shifted around that night in January 1996.
Top of Page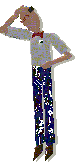 For enquiries on TheU Project contact Stuart Gold

---
---
Please send any comments on this site to our webster
© 1998 Contact Consortium, All Rights Reserved.