TheU

Competition
Design Brief
The Judges
Digi's Albums:

Team Thoughts:
AlphaU
Append
Athought
Aurac
Aurora
Bequeath
Bow
Cubed
J'sWorld
Lordfly

History

The Future

Mailing List

Links

Contact Consortium Home page
Team Name

Invisible

Web Page

Team Member

Serox Pharmasist
Location Norway

H
o
p
e
d

to

A
c
h
i
e
v
e

I wanted to be a part of the team. And to see what we where able to do in AW. Also I wanted to learn more about how to build, and I thought it would be easier to do that by joining a bigger group - a team!



A
c
h
i
e
v
e
d

I have learned more about building. And I have gotten new friends.


F
e
e
d
b
a
c
k

I think we got too little info as we went along. TheU area was not being updated as I expected. I missed a kind of newspaper... At the end, the server capacity was too little (as You know).
To end the competition after instaling a one week old back-up, and (allmost) no possibility to make the most vital corrections, was not a very good ending! Don't do it this way next time...
Top of Page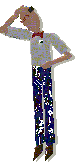 For enquiries on TheU Project contact Stuart Gold

---
---
Please send any comments on this site to our webster
© 1998 Contact Consortium, All Rights Reserved.