TheU

Competition
Design Brief
The Judges
Digi's Albums:

Team Thoughts:
AlphaU
Append
Athought
Aurac
Aurora
Bequeath
Bow
Cubed
J'sWorld
Lordfly

History

The Future

Mailing List

Links

Contact Consortium Home page
Builder's Name

BevAnne Heywood (zelaquin)

E-Mail
bevanne@localnet.com.au
Location
Australia
Web Page
www.localnet.com.au/~bevanne
Occupation
Artist

F
e
e
d
b
a
c
k

Thank you for the opportunity of competing in theU competition. I thoroughly enjoyed participating and I learned quite a lot about vrml etc. although creating my own models was a bit beyond my capability. My world is named Aurora - I decided on that name because of its 'enlightened' meaning and because of the beauty that both the nth and sth lights (Aurora) create.

I chose an environmental theme for Aurora for 2 reasons - i) because in some ways our earthly environmental can be quite remote from a technological environment and I felt that a virtual environment would link the two - merging one into the other creating a harmonius, peaceful and educational place to visit, and ii) because of the ability to create an environmentally appealing architectural structure that would bridge the outside environment with the inside (something I wish surburan housing developers would adopt - although some already do of course). Before deciding on this theme for Aurora I had no formal training on earth sciences, only the commonsense approach to conservation ideas that one would employ in their own homes, so it was quite challenging finding what I felt were the appropriate links that I included for video, audio and text.

B
a
c
k
g
r
o
u
n
d

Some personal information as you requested is as follows. I am an Australian 41 yr old single parent of 2 boys, Brady 14yrs and Wiley 8yrs. Both my boys are severely hearing impaired (never really a great problem tho) and both just love computers.


After having worked as a secretary for the last couple of years I recently decided to give up my full time job and do what I most enjoy - to work as an artist. I work mainly in the acrylic medium, but have also dabbled in watercolour and have recently purchased myself a graphic tablet and pen and have created a few virtual masterpieces that I will shortly add to my webpage - www.localnet.com.au/~bevanne. I have also recently embarked on an Information Technology Certificate III Course as a mature age student at a local Technical College to get a few basics on computers - (currently my 14yr old son knows quite a bit more than I do - hehehe).

I hope to continue studying computers and of course I will continue to paint while my children finish their schooling. I love the Australian bush and rainforest up the northern New South Wales (NSW) coast of Australia so my long term goal is to live, paint and work up there. Its a bit of a hippy environment - so that would suit an aging hippy like myself - ;o).
Top of Page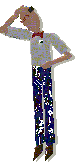 For enquiries on TheU Project contact Stuart Gold

---
---
Please send any comments on this site to our webster
© 1998 Contact Consortium, All Rights Reserved.