TheU

Competition
Design Brief
The Judges
Digi's Albums:

Team Thoughts:
AlphaU
Append
Athought
Aurac
Aurora
Bequeath
Bow
Cubed
J'sWorld
Lordfly

History

The Future

Mailing List

Links

Contact Consortium Home page
Builder's Name

Melinda (Siss)

Previous Work

Alpha World 10003S 71E

Web Page

E-Mail

Location

Kansas, USA

P
e
r
s
o
n
a
l


I am Melinda or better known as Siss in Active Worlds. I am a solo entrant in TheU competition and I have completed as much work on Bequeath as time will allow. I live in a relatively small town in Kansas, USA where I work in a maximum-security prison for men.

I have a bachelor degree in Rehabilitation Education and counsel inmates for alcohol and drug abuse. I have also been working towards a second bachelor degree in secondary education and only lack one year of being able to teach high school English. I am a single parent of a 17-year-old young man known in Active Worlds as Sir Frosty. He is a Junior this year and has college in sight to become a ceramics/history teacher. He does not build in Active Worlds, but he is more than willing to give his opinion of my projects.


H
o
p
e
d

to

A
c
h
i
e
v
e

When I applied for the contest I was excited at the idea of building a university, but soon found to have taken on quite a task, as I have only been in Active Worlds since the later part of September. Although I had learned a great deal about building, I had never actually completed an entire project. I saw the competition as an opportunity to learn more about building and to experience what it would be like to have my own world, and I suppose to some extent stroke my own ego.

A
c
h
i
e
v
e
d


What I actually learned from the competition entailed a great deal more than that. In order to post midi's and pictures I had to learn how to make a homepage right in the middle of the competition. Thanks to a good friend Jakknif, I was able to get a start on what would actually become the greatest challenge of building. I searched the web for days trying to collect midi's that I considered to be the best available and proceeded to obtain permission from the creators to use the midi's on my web site. At the same time I began to search for pictures that would be appropriate for a fine art gallery. Then came the task of figuring out how to put these items on my homepage. Of course, I knew what downloading was, but uploading was a term I had never heard of and did not have a clue as to what it was. As usual, I persevered until finally I was able to perform the task of uploading. With the homepage in place I could then return to my construction projects and develop more areas of interest.
Another aspect of the competition that I consider important was the greeting of visitors and visiting with them about my ideas and aspirations for my world Bequeath. Although I wanted to spend all my time building I knew that without the visitors there was not much point in building a university, so I stopped building to visit with all that I could. By doing this, I began a chronicle of their visits via national and state flags in my House of Nations. This project seemed to interest people and encouraged them to visit again to see their flag in the building.

F
e
e
d
b
a
c
k
As for ideas or improvements for future competitions, I have not really put much thought into the idea. Of course, more time would be nice, but the reality of system operations does not make this feasible. At the beginning of the contest I was surprised at the number of people that did not even know that a competition was going on much less what the competition subject contained. I do not know how the advertisement of the competition could have been announced differently, but it seems that perhaps more people should have known about it.
All in all I enjoyed the competition and do not regret my participation in it. I met many nice people and learned a great deal about virtual education. As time goes on I intend to continue the growth of my homepage and will be adding more of my own writing in hopes that others can find some enjoyment in my essays, creative non-fiction, and poetry. The art section will diminish over time as it is a space hog and I will want that space for my own work. In addition I will also continue the development of my Active Worlds page and will add links to the page that I feel are worthy of posting. I also intend to continue building in Active Worlds although I will not be spending quite as much time there as I have in the past few months. I had considered buying Bequeath, but upon reflection my ego does not need to be stroked that heavily and I will be quite satisfied to build in the worlds that are free to improve as much as I like. I am in hopes that I will stay in contact with those that I have met in Active Worlds and hope to one day meet some of them face to face. It is strange that sometimes I meet people that are within a half-hours drive of my home. I have met two such people in Active Worlds and will most likely meet more in the days ahead. I find great enjoyment in exploring Active Worlds and hope that others can find the same enjoyment from time to time. Thank-you all for allowing me this opportunity to explore my own dreams and aspirations to gain knowledge in a manner that I had not really thought of as an opportunity to learn.
Top of Page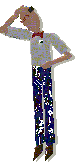 For enquiries on TheU Project contact Stuart Gold

---
---
Please send any comments on this site to our webster
© 1998 Contact Consortium, All Rights Reserved.