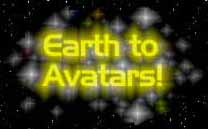 E2A Makes Cyberhistory!


Earth to Avatars, The first annual Contact Consortium Conference on Contact, Culture and Community in Digital Space, was held on October 26 and 27 in San Francisco, California USA. This first ever event on Avatar Cyberspace was a milestone in the evolution of the Internet into a medium for human contact and community.

Session topics included: avatar standards, designing and building virtual worlds, virtual community, worlds for learning, worlds for electronic commerce, digital culture, digital biology, and the best in inhabited virtual worlds on the Internet. Over seventy speakers! including the movers and shakers of the virtual worlds movement filled our program. See some scenes from E2A in our Photo Gallery.

Participation from the Whole Community

Participating companies and organizations included: 3-D Labs, 3rd Dimension, America Online, Anthrobotics, Apple, BigBook, Black Sun Interactive, Chaco, Construct Internet Design, Duck Soup, Electric Communities, Fujitsu Software Corporation, IBM, IDS, Intervista, Intel, Interval Research, ITU Research, KATrix, L-Squared, Microsoft, NTT Software, OnLive!, Oz Interactive, Paragraph, The Palace, Planet 9 Studios, Velocity Games, VeRGe, The WELL, Worlds Incorporated, Zenda.. and more!

The conference was held over two days, October 26-27, 1996 at the ANA Hotel in the heart of San Francisco and the Multimedia Gulch.

Review the E2A 1996 Full Program

Missed E2A? Catch up on the first ever conference on Avatar Cyberspace by ordering your Videos and Audio recordings today!
---
First Annual Avvy Awards!

See the Sue Wilcox VRMLSite Avvy Report.



Announcement of the
First Annual
Avvy Awards!


Web Design's Lisa3 was the Overall Avvy Awards winner
---
Reviews of E2A
Sue Wilcox's VRMLSite Magazine E2A Reveiw
See the Story in the San Jose Mercury News business section, Sunday November 3, 1996.
See David Duberman's Daily Spectrum Report on E2A
Read Mark Pesce's Keynote
See E2A on Strange Universe, Friday November 8, 1996
See E2A on Internet Cafe on PBS, Friday November 15, 1996 and Monday November 18, 1996
More reviews to come here soon!
---
Contacting Us
Join us next year at Avatars 97
To be held in October 22-24 1997 in San Francisco, California
Please feel free to contact us regarding sponsorship, speaking, volunteering, media coverage or attendance for Avatars 97. Reach the conference organization team at:
Conference page visitor
since Sept 3, 1996
Back to Consortium Home Page
Please send any comments to our Webmaster
© 1996 Contact Consortium, All Rights Reserved.