Sherwood Forest
Community Project
** the Towne Crier **
Sherwood Forest's Community Broadsheet
Issue #2,
Year of Our Lord May 8, 1996
---
Vandals Stryke Sherwoode!!
Our peaceful town has been struck by vandalism! Lot "B" has been defaced by someone calling themselves "Kyoti". This happened sometime during the Great Building Day on May 4th when there was much confusion and many strangers about. One of our children playing with a camera took a picture that might possibly be the culprit, but as you can see, the quality of the picture is very poor. We can not make a positive I.D. from it. If you have any information regarding this terrible crime, please contact someone in the Sherwoode government.

Town Manager, our Webmaster, has offered a reward of free coffee and doughnuts for a year at the soon to be built Pie In The Sky Bakery for information leading to the swift capture of this deranged person. She is quoted as saying "We must spare no effort to find out who is doing this. If he is not captured, who knows what will happen next. We must not allow our beautiful town to be terrorized like this."

Please, if you know who is doing this, or know whose picture this is, tell someone. This is a sick person. He needs help.

DO YOU KNOW THIS PERSON?
---
See What We Did on Towne Day TWO
with Many Fine new Buildings Going Up!


---
See our Towne Guide
with Maps and Arial Views from Our Balloon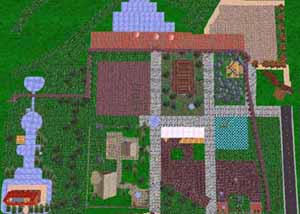 ---
---
Find the new
icons all over the Website!
And pay visits to different parts of Sherwood!
---
We have a few copies of Back Issues around

Issue #1, Year of Our Lord April 28, 1996
---
Please send any comments to our Webmaster
© 1996 Contact Consortium, All Rights Reserved.