What is TheU?
TheU is an exciting concept project for a new type of learning facility, initiated by the Contact Consortium. It is positioned to straddle between traditional campus based universities and the growing number of distance-learning projects. Distance learning using current methodology offers many advantages to students in remote areas and students attending part-time courses. However it lacks the sense of community and social interaction which can be achieved by sharing the same environmental spaces and experiences. In the long term we foresee Virtual Worlds technology becoming a tool for enabling completely new and innovative teaching methods.

Due to its unique combination of both social interaction and user defineable virtual environments, we feel that Active Worlds technology from Circle of Fire is an ideal platform on which to develop this project.
Why TheU?

Why another virtual university, and why now? There are many active virtual university and distance learning projects, including Diversity University, College Town, EON, VOU (Virtual OnLine UNiversity), to name just a few. However the majority of the projects use MUD or MOO text-based world environments and some of these implement classrooms for general education.
Why is TheU Different?

TheU will be one of the first virtual universities to be built in glorious three dimensions using the new virtual worlds technology. TheU looks like a real, visual campus with buildings, green space, meeting places, and a whole range of services. In theU, people (represented as digital avatars) move around campus, interacting with each other, learning and helping others to learn. Students and teachers are communicating and experiencing the virtual environment in real-time using their avatars but in reality may be thousands of miles apart.
Inhabiting and helping to create their own virtual environment, students in distance learning courses will, for the first time, have the opportunity to experience a community of people with shared goals and a powerful sense of their own campus.
TheU introduces a whole generation to the virtual world experience and, we hope, will produce many distinguished graduates.
Real Audio Introduction to TheU by Stuart Gold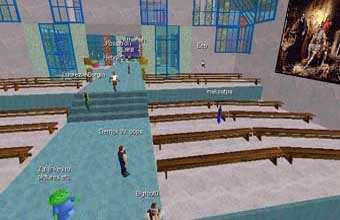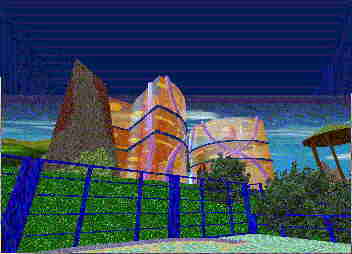 Two views of Aurac, the winning competition entry, which will become The Institute of Virtual Education - the first phase of TheU