11am - 3pm PST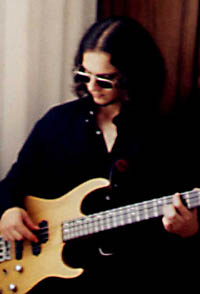 [7pm - 11m GMT]
RockRoll world
in Active Worlds

Maxim Gorelik ("HolyDiver")
Member of 'The Heepsters On The Web'

will host a group discussion on the topic:

Music on the Internet and in Virtual Worlds

"I want to tell people about the different Fan Clubs and Support Groups on the Internet and about the different music places built inside ActiveWorlds, especially the World Of Rock And Roll. A discussion will be much more lively than a lecture and will attract more people, and will also let everyone express their opinions."
http://www.RockRoll.net

I was born on August 4, 1980 in Riga, Latvia. My parents' names are Alex and Jeugenia Gorelik. Both of my parents are engineers. They got divorced when I was 4 years old. When I was 6 years, old my parents sent me to the "Pushkin Litzey" basic school for gifted children. I studied there until, in 1992, I immigrated to Israel with my father and his wife. In Israel I finished my basic education in an ordinary school and in 1998 graduated the "Shevah Mofet" Computer Science High School. In March 1996, I found a job as a programmer`s assistant in the Cadtech company. Later I was promoted to programmer, and now I am a project leader.

In February 1996, I met the most ideal person on this planet, Miss Joanna Rosenpheld. A few months later, I moved to live with her. We lived happily until, in March 1998, I lost my love in a car accident.

When I was 13 years old, my father introduced me to such a great music genre: Classical Rock. Since then good music is my love! I can`t imagine a day without listening to the great music of bands like Deep Purple, Uriah Heep, Jethro Tull and others. In the summer of 1996, I began studying to play bass guitar. During the summer of 1997, I played with a local Tel-Aviv band called "42" (If you read Douglas Adams you will know what it is).

I've been exploring Virtual Worlds for more than a year now. In February 1998, I applied for a citizenship in ActiveWorlds. In February 1998, I bought a world in ActiveWorlds. The world`s name is RockRoll and its theme is obvious. Since September 1998, I've been a member of The Heepsters On The Web - the official Uriah Heep promotion group on the Internet.