An extended Welcome and background information from DigiGardener (Bruce Damer), Co-Director of the Contact Consortium (www.ccon.org) and chief running-around gopher for Avatars2000: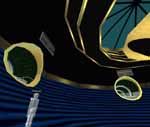 For the past five years, the Contact Consortium has been gathering together the global community of pioneers who are "colonizing Cyberspace". What to we mean by colonizing Cyberspace? Well, in the beginning of the net there was the word, with email, usenet, MUDs and other ingredients of an all-textual online experience. Next came the document, with the Web and its many offshoots. And now finally we are moving toward putting the *space* in Cyberspace with the rise of graphical virtual worlds inhabited by people interacting in real time using digital personae known as "avatars", your graphical alter ego in Cyberspace.
So Why Boldly Go into Avatar Cyberspace?
Why do communities of avatar citizens believe so strongly in their virtual worlds? Well, perhaps because they are a new medium for human contact unlike any other in our history. A virtual world is a space you design, a story you live in, and a personal community you create. It is a place that exists nowhere but everywhere with properties and geography bound only by the limits of human imagination. Attend Avatars2000 and experience this for yourself. On one day only, Sunday October 15, 2000 you will be able teleport to our fabulous space station and go on to tour a whole solar system of worlds used for learning, collaborative work, artistic expression, interpersonal discovery, scientific inquiry, creative commerce, and just good fun. Its all available at http://www.ccon.org, the Contact Consortium home page.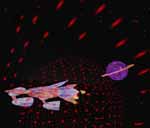 Avatars2000, like the last two last year's ground breaking online events, Avatars98 Inside Cyberspace, and Avatars99 Colonizing Cyberspace will take place partly inside virtual worlds and at in-person event locations all around the planet. This year's event will feature:
A fantastic multi-ring space station to explore
Fantabulous spacey avatars to try on
A Big Board of live speakers
The Outer Planets Tours Of Worlds
The Out of This World Art Gallery
Exhibits in the Cybertradeshow
A whole torus ring of webcams from locations planetwide
The ever popular Avvy Awards
A link to VLearn3D 2000, a conference on virtual spaces for learning to be held the previous day, October 14
And a one time only cosmic event following the avvy awards at 6pm US Pacific Coast TIme.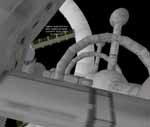 At Avatars2000 you will experience the people, places, stories and communities emerging in the first true Cyberspaces on the cusp of the millennium. Join our team and be part of this exciting event.
Last and not least, we would like to thank all of our volunteer builders, community organizers, web designer (thanks Simon Tann of Aurora Web Effects, http://www.ourinternet.com/stann.html), contributors and sponsors. Thanks also to ActiveWorlds.com for providing worlds and support.
Digi off the record
Folks, why am I doing this, well hey, for me this is the most exciting thing in technology I have ever experienced (and I have been in computing coming on 20 years now)! This is the Cyberspace of our dreams, a Cyberspace that takes its inspiration from the Matrix in William Gibson's Neuromancer and from the Metaverse in Neal Stephenson's Snow Crash. This is a Cyberspace of inhabited virtual worlds, worlds which will take you way beyond the web. This is not just an interface, it is a real place! In 1996 we celebrated the birth of a new medium with the first conference on inhabited virtual worlds, Earth to Avatars. In '97 we met again in San Francisco for Avatars 97. In 1998 and 1999 we took the bold step of moving the conference online and inside Cyberspace which reached a whole new global audience. In 2000 join the Contact Consortium, its members and supporters, and make history again on Sunday October 15th for Avatars2000, Cyberspace for a New Millennium!
Have Avatar Will Travel!
DigiGardener (Bruce Damer)
Santa Cruz,
California
Read about the "real Digi" at: www.damer.com