The Contact Consortium Presented..AVATARS2000 on Oct 15, 2000


See Avatars2000 The Movie here and

Report on AVATARS2000, the Avvy Awards and surprise Cosmic Experience and

Avvy Awards Winners Now Posted!

& Don't hesitate to sign up on our Mailing List for updates on all upcoming Consortium events
Event Site (now over)
Check out the website for the three platform events:
Avatars 2000: CyberSpace for a New Millennium
Saturday Oct 14 and Sunday Oct 15, 2000
What will it look like? Preview the AW Event Worlds
Sign up today to be a part of Avatars2000:
Launch into Three Platforms and Experience Three Events!
1) Enter Main AV2000/ActiveWorlds Site


Download and install Active Worlds
Blast off.. then dock your ship with our CyberSpace-Station
by clicking on the HTML Version or Flash Version

2) Enter Main AV2000/blaxxun StarshipC3 Site


If you are in New York City, join the Avatars2000
Face-to-Face on Saturday October 14.
Download and install blaxxun contact
3) Enter Main AV2000/Traveler-OzGate Site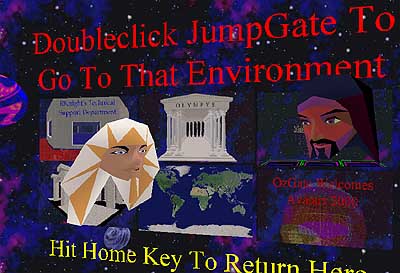 Traveler OzGate Event
Event runs 1pm to 6pm Sunday Oct 15th
Download and install Onlive Traveler
Enter Avatars2000/Traveler/OZ enter through the community destinations page

..and dont forget to sign up on our Mailing List for updates all Avatars2000 events

Read about Avatars99 and our past conferences

© 2000-2001 Contact Consortium, All Rights Reserved.