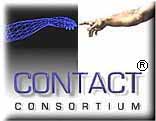 1996 Events

1995 Events

Early History and Events

Return to current event index
We held: Earth to Avatars 96, San Francisco CA, Oct 26-27.
We presented the closing plenary panel at ACM CSCW 96, Boston MA, Nov 20.
We pressented a special program Conference of the American Association of Anthropologists, San Francisco CA, Nov 23.
We presented our overview of the Worlds Industry at Intel Corporation, June 16
We had an avatar party on July 13! See the Party Pages
We produced two workshops at MediARTech in Florence, Italy, May 29-June 3
We presented a seminar at Philips Research in Redhill, U.K., June 5
A colloquium was held at the National Research Council, Ottawa, Canada, May
We met virtually in Sherwood Forest Towne on June 8th
May 4, 1996 was Sherwood Towne Build Day!
March 24, 1996 started the Sherwood Forest Community Experiment
The Consortium presented a formal demonstration at CHI96, Vancouver, Canada, April
We held our Mar 8th Contact Consortium 1996 Symposium at CONTACT XIII, Milpitas CA
We held our first annual meeting at CONTACT XVII in Milpitas CA, March 9.
We participated in 24 Hours in CyberSpace, Feb 8

---

We held our first BRAINSTORMING Session, June 30-July 2, 1995, Soquel CA
Consortim presented five seminars at NASFiC, Atlanta GA, July 1995
More on the Early Events of the Consortium.

---

Please see the Early History and Early Events of the Consortium.
---
---
Please send any comments to our Webmaster
© 1998 Contact Consortium, All Rights Reserved.