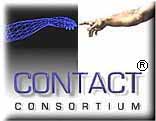 E V E N T S

Upcoming (2006-2007) and recent events
The Consortium Annual Conferences
Past Event Archives

2004 Events
2003 Events
2002 Events
2001 Events
2000 Events
1999 Events
1998 Events
1997 Events
1996 Events
1995 Events
Early History and Events

Year 2004 Events



Avatars Conference Series Avatars 2004

AvaMars

was held on March 12-14 2004
Year 2003 Events

January 22: Bruce Damer presented the "Drive On Mars" initiative at the Athena Mission team meeting at NASA Jet Propulsion Laboratory in Pasadena California (this meeting was closed to the public).


January 23: Bruce Damer presented the Creative Commons license and virtual worlds topics for Brenda Laurel's class at the Art Center College of Design in Pasadena California.



Year 2002 Events



Year 2001 Events
February 19-22: Was the Web3D/VRML 2001 Symposium in Padeborn Germany.


March 2-4: Was CONTACT 2001, the 18th annual conference of CONTACT COTI (Cultures Of The Imagination), the grandfather organization of the Contact Consortium. This is a truly unique conference bringing together anthropologists, space scientists, science fiction writers and others at the Biltmore Hotel and Suites in Santa Clara. This year's dinner keynote speaker was be Seth Shostak of the SETI Institute. During this event, the Contact Consortium presented a special session on the Avatars2000 cyberconference, work with NASA Ames on the FMARS/Houghton Mars Project, the Moon project and the VLearn3D SIG, On Friday March 3rd was a day at NASA Ames Research Center exploring Extraterrestrial Intelligence.


March 20-24: Was the Computer Game Developer's Conference in San Jose California: what's new in online multiplayer gaming worlds.

March 28-Aprl 11th is the Online conference Online Social Networks 2001 co-hosted by Lisa Kimball and Howard Rheingold. Register for the event here (this event is facilitated through a web-based threaded discussion forum)


Aprl 12th was a special Brown Bag lunch at the Stanford Law School Center for Internet and Society (Cyberlaw) where Bruce Damer, Steven Reading, Galen Brandt, and Bob Gelman presented a session on for Lawrence Lessig's students and researchers. This presentation featured live journeys into online virtual worlds where ad hoc property and civil rules of conduct are emerging. From avatar citizens pilfering hairstyles and ending up in a moot court to communities and enterprises utilizing franchising and choardic structures, this fascinating corner of the net illustrates the concept that in Cyberspace, the code is the community.



May 2001: was a visit and special presentation made by Bruce Damer and Galen Brandt at Umea University, Sweden. Photos here.


June 18-19: was VirComm 2001, the Conference for Virtual Community Professionals in San Francisco California.


June 26-July 1: Was the North American Paleontological Convention in Berkely, California, where Biota.org hosted a special symposium "Evolution in the Computer: Artificial Life and Evolution".



Jul 23-28: was SIGGRAPH 2001 in Los Angeles California featuring another Web3D Roundup.



August 27-Sept 3: was Burning Man 2001 at the Black Rock Desert in Northern Nevada. Never before was the virtual combined with the surreal physical on so vast a scale. See Bruce Damer's Burning Man 1999-2001 images and documentation.




September 15-16th: was Cyberarts X, the Tenth Year Anniversary of Cyberarts International held in San Francisco at the Exploratorium and the Somarts Cultural Center. This year's theme was "rediscovering creativity". Cyberarts was presented in concert with YLEM (celebrating their 20th anniversary) and several other organizations supporting including Adobe Systems Inc., DigitalSpace and the Contact Consortium which presented a special "virtual CyberArts" and "YLEM/20 gallery" permitting in-world avatar attendance at this important event. See the CyberArts X Conference Photo Album here.



September 21-23rd: was Paradox III: Third Millenium Habitats, Integrating Community, Virtuality and Nature at Paolo Soleri's Acrosanti in the Arizona desert. Presentations touched on virtual worlds in their connection with design and living in realspace and cyberspace. See the Paradox III Conference Photo Album here.


Avatars2001 happened on Dec 1-2, see our conference report.
December 1-2 was Avatars2001 combined with VLearn3D 2001. To get information about future Avatars and other Consortium conferences, sign up on the Avatars conference mailing list for updates. All events from 1996 through 2001 are covered here.



See Also:

2000 Events
1999 Events
1998 Events
1997 Events
1996 Events
1995 Events
Early History and Events
---
Please send any comments to our Webmaster
© 1996-2006 Contact Consortium, All Rights Reserved.