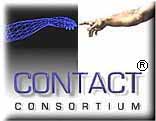 2000 EVENTS
Return to current event index
2000 Events Archive
(in chronological order)

Year 2000 Contact Consortium Conferences
Oct 5: Was America's Kids Connect, (formerly Minnesota Net Day) where multiuser virtual worlds were featured.


Oct 6: Bruce Damer and Galen Brandt presented at the University of Alabama in Tuscaloosa.



Oct 13-14: Was VLearn3D 2000 held by the Vlearn3D.org SIG of the Contact Consortium with live events at UC Santa Cruz, Cornell University and other locations.


Avatars2000,
was held on Oct 14-15!
---
Please send any comments to our Webmaster
© 2000 Contact Consortium, All Rights Reserved.