Avatars98 will be happening all over Cyberspace, in a virtual world near you. To experience Avatars98 you must first get a world by downloading special software. Once you are equipped to enter the world or worlds of your choice, you can attend the events hosted in each world. The following is a preview of events in each world, stay tuned as more spaces come online..
See the Palace event in the "Avatar Cafe" scheduled for Avatars98 on Nov 21st by Jeffry Willard.
Roomancer by Moove is a new world to the inhabited cyberspace cosmos, watch for events here. Find Roomancer at the English Page. See the current Roomancer users online at http://195.82.69.162/Online.htm
This brand new world is a Multiuser 3D MOO client writen in Java, supporting both IP-multicast & VNet protocols. Download http://this.is/javamoo/ And visit the worlds:
vrmLab Town Square, if you donīt have Java3D or JavaMOO you can join, using the NS/IE/Cosmo/VW combo at http://ariadne.iz.net/~jeffs/vnet/
IP multicast testspace, if you are connected to the MBONE this is the place for you to try out.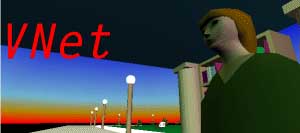 VNet Open VRML MultiUser Worlds
More events in other virtual world platforms will be announced soon!