The best way to get the news about Avatars99 is to subscribe to the Avatars mailing list. If you are press please see our press release and if you would like special guidance to cover the event please contact us. If you would like to participate, sign up today!
Now see the latest from the floor of the world's first cybershow, Avatars99 as builders show off their spaces, scheduled to open to the public on December 4th:
Active Worlds for Avatars99

A look at the sporty new T-shirt on an AV99 avatar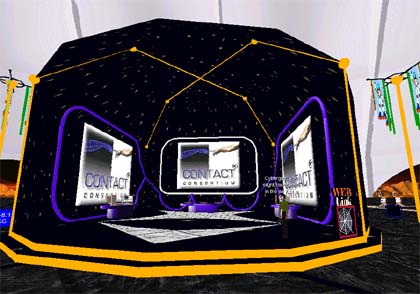 Booth at the all new exhibit hall

Views of the innovative Virtual Discussion Rooms, a new feature for speakers at this years event. You can sign up as a speaker and configure your own VDR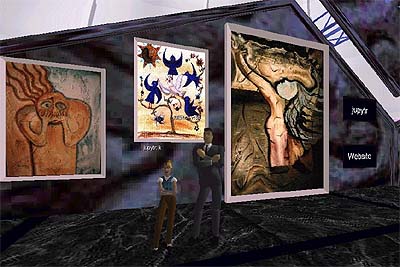 Scene from this year's much more avante garde Out of This World Art Gallery picturing curator/builders Jupytr and Killamo. Sign up and hang your own art in the gallery!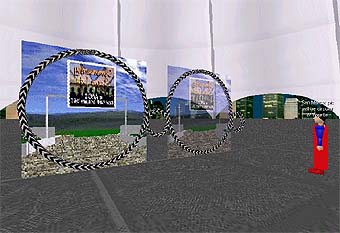 Wonderful teleporter design (the hoops are animated textures) for the Telepark and Grande Tour of Worlds (designed by AlphaBit Phalpha). Pictured here is San Marco, event architect. This is a shot from A'A world but will be found in AV99AVVY where the Avvy Awards, Grand Tour Telepark and other events will be based. Sign your world up for the Grande Tour.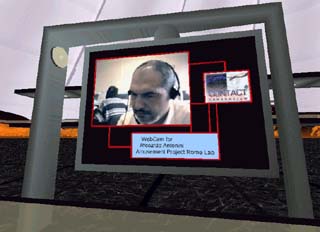 A preview of the Webcams World
Onlive Traveler for Avatars99

Traveler spaces showing Av99 mascots Avonaut and Avanaut as built by the OzGate team
If you would like to participate, sign up today!