Substantial in-kind contributions are being made by the following organizations and groups:

Circle of Fire Studios, for providing
The Active World AV98 and support
for the event
Koolworlds of the Pacific Northwest in the USA and the great team lead by Max and his twin brother Dax2 for their development of objects and overall sectional design for the AV98 convention hall world in Active Worlds.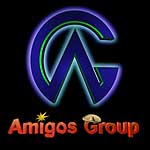 Amigos Group of Amsterdam, Holland, for providing not only a revolutionary roof/floor for the conference hall but great avatars too!
Philips Multimedia Center in Palo Alto California and Pieter van der Meulen for his panorama for Vevo World, used in modification as the backdrop for this website.

Millenium Interactive of Richardson Texas, contact MyTwoKeys


Synergycorp and Russel Freeland (Dataman) for his fine selection of avatars used in the Avatars98 hall in Active Worlds
Last but not least, there are many crewfolk who are hosting events in their locales and providing other volunteer functions such as our hosting crew, avatar designers, botmeisters art contributors and others. More contributors will be listed here soon
Learn more about the history and philosophy behing Avatars98 on the About Avatars98 and Digi's Welcome pages.
Opportunities for sponsorship and other volunteer contributions are available. Please feel free to contact us.