The following is a peek into the exciting virtual conference space we are building in our Active Worlds world server to host a series of events during Avatars98 on November 21st. Contact us if you would like to go on a preview tour of the hall. Other events for Avatars98 are being set up in a variety of different virtual world platforms. To enter the Active Worlds space or any of the other conference worlds you must first get a world installed and running.
Peek at the fabulous booth designs in the exhibit hall and our custom designed avatars!
| | |
| --- | --- |
| | |
| | |
| | |
| Modeling the Avatars98 T-Shirt! | The official biz folk avatars for the sales and marketing genius in all of us! |
Peek at the Wall 'O Webcams where the various sites around the world will jack in their views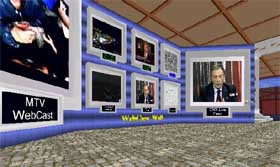 Peek at the Out of This World Art Gallery where artists will hang their works for a unique art showing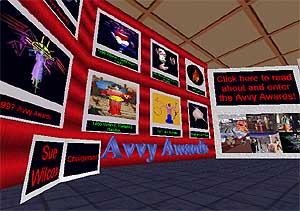 We will feature more on these pages soon, including the BigBoard, the conference event schedule for the Big Day, November 21st!