TheU

Competition
Design Brief
The Judges
Digi's Albums:

Team Thoughts:
AlphaU
Append
Athought
Aurac
Aurora
Bequeath
Bow
Cubed
J'sWorld
Lordfly

History

The Future

Mailing List

Links

Contact Consortium Home page
Web Page
www.activeart.co.uk/theu/
Henrik G
Zg & Aurac
(Active Art Design)

Location Norway
Occupation
Research Engineer

Location
Berkshire, UK
Background
Multimedia, Art, Music & Computer Graphics

I work as an engineer in a research lab. My field is mostly aluminium electrolysis, both basic research into the process itself and research on new materials for use in the industrial process.

Hoped to Achieve
The competition posed an interesting design challange as it would have to be something that would work for a very specific purpose. At the same time it has to be exciting to look at for people coming back again and again. I wish the schools I attended were prettier:)

Achieved
As design is a new field for me every task is a learning experience. And this certainly was for me.

Feedback
Hard to point at anything specific.. the goals were pretty well defined. Maybe provide design tools to level the field

Not enough communication from you guys to the teams.

A more defined brief would be nice as, on this occasion, no-one was really sure what the brief was - some thought it was just a building competition,
some thought it was about content and communication etc etc


Possibly a limit on team sizes - that would even the odds out and possibly put less strain on the servers.



Hoped to Achieve
We hoped to explore the VR possibilities offered by the AW environment with
an educational focus.

Trying to create an interesting and informative environment which would be enjoyed (hopefully) on many different levels. We tried to create a hyperreal space in which people from all over the globe
would feel at home in. We deliberately didn't try to re-create the real world in VR, as it seems to us that if you truely want reality you should just step outside your front door. Rather we have tried to engineer a hyperreal envirnoment which you would normally only experience if you stepped outside your head.

However in our use of virtual space, we have tried to arrange the environment in such a way as to retain a recognisable impression of normality - primarily to assist new users of VR. This would not have been the case had we endeavoured to produce a truly experimental VR environment and had for example removed gravity and points of visual orientation.

Achieved
I think that we succeeded in reaching the objectives which we set ourselves at the beginning of the competition, namely to produce something memorable, different and informative frame. within a short time

We have tried to use almost exclusively custom-built objects and textures for this world which, although a lot of work was essential to produce something immediately
identifiable from the normal AW modelling. Although that this was not specifically a modelling competition, we feel that we have given the U objects and through the use of our custom textures an identity and personality. Which we felt was very important given that you would want belief is repeat visits. Our that a different world is a memorable world.
Top of Page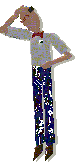 For enquiries on TheU Project contact Stuart Gold

---
---
Please send any comments on this site to our webster
© 1998 Contact Consortium, All Rights Reserved.