TheU

Competition
Design Brief
The Judges
Digi's Albums:

Team Thoughts:
AlphaU
Append
Athought
Aurac
Aurora
Bequeath
Bow
Cubed
J'sWorld
Lordfly

History

The Future

Mailing List

Links

Contact Consortium Home page
Builder's Name
Monique Warner (Athenah)
Previous Work
Alpha World at 6870N 7060W, Pollen, Ethereal & Emerald
Web Page
http://theu.srt.net/alphau/
E-Mail
athenah@qni.com
Location
USA
Occupation
E-Mail Service Administrator/Teacher
Hoped to Achieve
I thought it would be a fun and worth while project to be involved with, and to see if I had it in me to build a project of this size. Having been a teacher, the idea of building a University was intriguing to me.


I hope that some of what I have learned, will be viewable though my work at AlphaU. Perhaps AlphaU has served to help others build, learn, and meet others on line.
Achieved
I have learned that it is more fun to build with your friends, and easier to build when sharing ideas. I now know that 3-D Virtual worlds hold so much promise for the future, and so much is possible.



I can't wait to see the medium evolve further. I have met some wonderful visitors to AlphaU during the building stage, and now have some new friends!

Feedback
This competition was an excellent experience, everyone was very friendly. The level of sportsmanship was incredible! In the future it would be nice to compete "level to level." Teams against teams, individual against individual. Object builders against object builders. Yet, I must admit, the diversity of this competition was wide spread, the results have been amazing!
Top of Page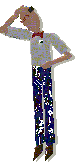 For enquiries on TheU Project contact Stuart Gold

---
---
Please send any comments on this site to our webster
© 1998 Contact Consortium, All Rights Reserved.