Location: Tennessee, USA
Occupation:
Dog Handler
Location:
Finland
Occupation:
Computer Support
Location:
Silicon Valley, USA

The concept of building a VR world (the Institute for Virtual Education) which could attract educators from all over the world to gather in one "place" was exciting. I wanted to be part of an effort by all the participants, not just our team, to draw more attention to the possibilities of using VR technology for educational purposes.


Our team achieved the satisfaction of seeing a goal realized; that of producing an inviting VR environment for educators to gather in to actually see how using VR can add a more personal element to long distance teaching. The sheer fun of working with teammates, as well as getting acquainted with some of the other very talented competitors, made the whole experience most enjoyable.




I thought this competition was well run. There will always be "mechanical" glitches from time to time. Such occasional problems are inherent in working on anything through the internet. Overall, however, the competition seemed to progress nicely and was well organized by all the sponsors.

My feeling is that regardless of which world "wins", everyone who took part in this endeavor, sponsors and builder-participants alike, will "win" in the long run. Everyone wins if an Institute for Virtual Education can lead toward development of more learning opportunities for students all over the world.
I had enjoyed building with Eep's objects before and wanted to
help him in this competition.

I had the pleasure of smooth teamwork with friends
and creating and accomplishing something.
To design an entire world to a theme was a challenge,
but also helped in deciding what to do. I improved my building and object making skills greatly.

I got many new friends meeting visitors and other competitors.

The competition setting made people give their best in all the
participating worlds and helped push the boundaries of VR we've seen so far.
It was thrilling to see how enjoyable and captivating environments
it is possible to build even with today's means and methods.

Naturally I also got some insight into the state of virtual education today and in that way, a broader view to the medium that I have so far only been using for entertainment.

I have no background in pedagogics, so I had some difficulties in
planning the content of the world. I would have liked to have more
instructions and feedback about what was wanted, what to include
in the project and what the judging criteria would be.

Technical problems disrupted working once in a while, but I guess they
can't be avoided. Extending the deadline was even a relief, because
it gave us time to finish our plans without rush.

I met some other competitors by visiting their worlds or them visiting
ours, but it would have been nice to have more informal gatherings
or more messages in the mail-list, so that I could have learned more
about their ideas and experiences.

Virtual education is an interesting new way to use the Active Worlds
technology, so I would have liked to see more information given
to the AW community about the competition, like a more long-standing sign
or teleport at AW Ground Zero, postings to the newsgroups etc.

But on the whole, I had fun building, and I suppose also TheU got
what they wanted, or at least some ideas for the future.
At first I just wanted a free world, but after I got into it, I wanted to learn more about virtual education. I'd love to be able to take classes (for approved college credit or whatever) in such a setting as Active Worlds.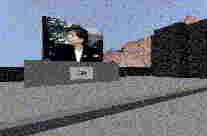 I got to experiment more with RenderWare, building, and world design. Plus I learned more about virtual education, and hopefully got some exposure that might lead to paid employment soon.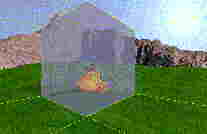 I would have liked more "panel" interaction: discussion about virtual education, more detailed and narrower objectives for the IVE, etc. I felt the competiion was a little open-ended.